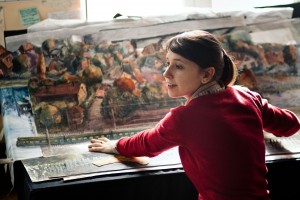 E-mail: iralitmanovich@yahoo.com
Irina Litmanovich was born in Rostov-on-Don in 1980.
She went to Israel in 1997 according to the SOKHNUT Program and was admitted to the Department of Visual Communication at the "Bezalel"Arts Academy in Jerusalem. She graduated in 2002 and completed her diploma film The Letter, an animation étude based on motives in the works of Daniil Kharms.
She returned to Moscow in the winter of 2004 and worked on several films in the The Mountain of Gems (Gora samotsvetov) project at the Pilot Studio: as artistic director on Natal'ia Berezovaia's The Ram and the Goat (Pro barana i kozla, 2004), as assistant director on Mikhail Aldashin's and Oleg Uzhinov's About Ivan the Fool (Pro Ivana Duraka, 2004), and as assistant artistic director on Andrei Sokolov's The Evolution of Petr Sentsov (Evoliutsiia Petra Sentsova, 2005).
In 2004-2006 she started her studies in the Advanced Courses for Directors at the Shar School-Studio (workshop of Fedor Khitruk and Aleksei Demin).
She finished her studies  with her diploma film Khelom's Customs, based on a poem by Ovsei Driz.
2006-2007  – worked on different animation projects.
2008-2009  – worked at graphic design company 'Image Press'
2009-2010 – worked on animated film 'Household Romance' (Aquarius Film)
2011-2012 – worked on animated film 'Snow Rider' (Dir. Alexey Turkus, Aquarius Film)
2012-2015 – worked on animated film 'Hand-Crafted Clouds' (Aquarius Film)
2015-2016  – joint work with Victor Shenderovich on the book "22 trolleybus and other etudes" as an artist.
2016-2018 – performances with creative evenings-presentations of the album "22 trolleybus and other etudes": Moscow, Eilat, Berlin, St. Petersburg.
2019-2020 – US tour with a creative evening showing cartoons: New York – Boston – Toronto – Chicago – Princeton, Salt Lake City – Seattle – Boulder – San Francisco – Palo Alto – San Diego – Los Angeles. And also performances in Tel-Aviv, Jerusalem, Essen, Moscow, Plyos, on the island of Olkhon, Lake Baikal.
Exhibitions:
"Sketches from Khelom". Exhibition of characters from the animated film "Khelom customs" and drawings from the Jewish calendar. Jewish Cultural Center on B.Nikitskaya, Moscow, September 2015.
Exhibition of illustrations for the book by M.Lipskerov "City on water, bread and clouds". Restaurant "Chagall", Moscow, October 2015.
Exhibition of sketches for the future cartoon about A. Volodin.  St.Petersburg, the lobby of the theater on Liteiny, the festival "Five evenings" named after A.Volodin, February 2019
"Moscow. Zone of love and turbulence". Exhibition of a series of works about the Moscow summer protests and drawings from the album "22 trolleybus and other etudes". Sakharov Center, Moscow, August 2019.
Exhibition of plein air Plyos (and not only) landscapes. Plyos, a coffee house named after S.Kuvshinnikova, November 2019